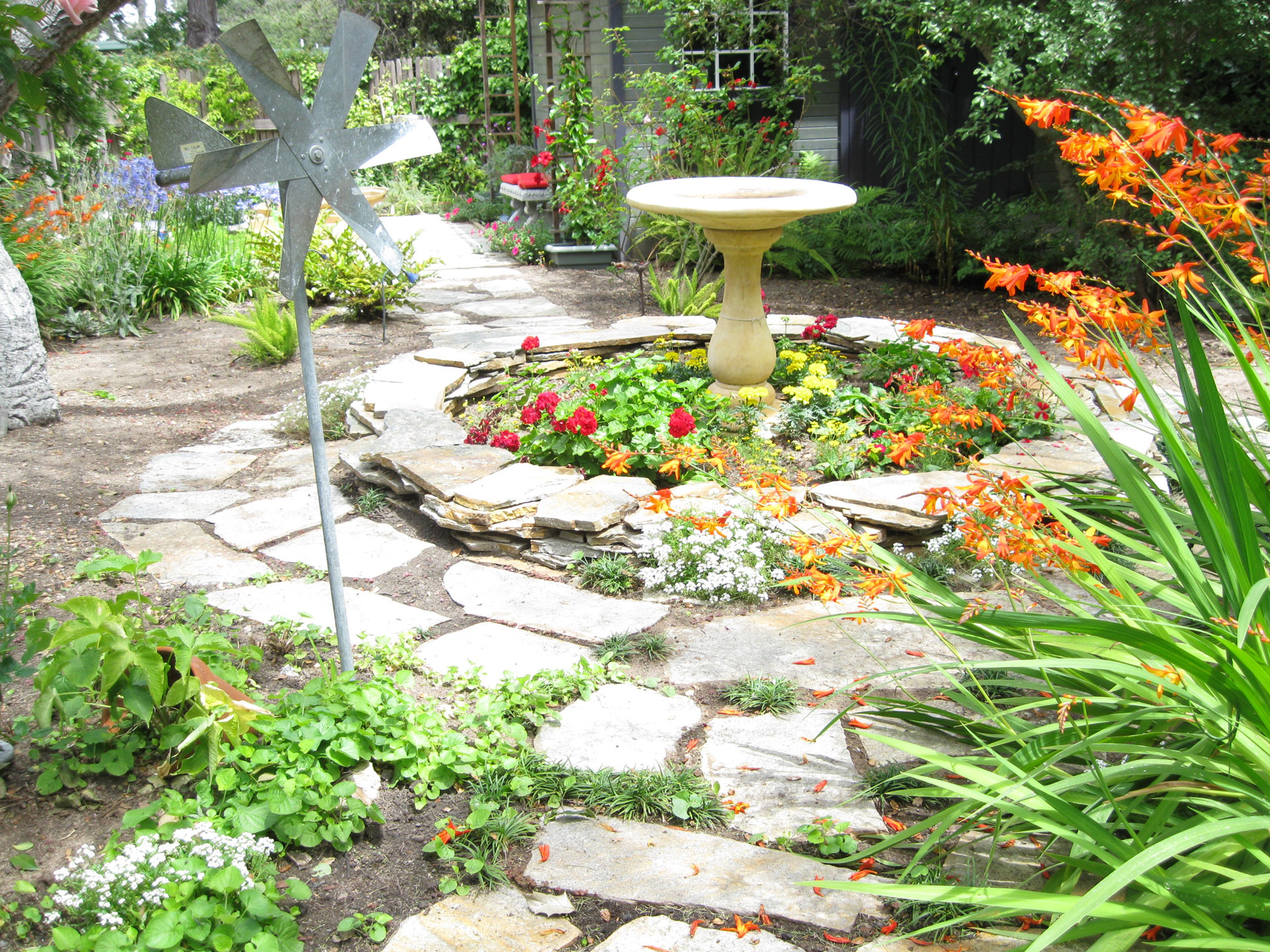 Professional Landscape Services
Creating Gardens from Carmel to Pebble Beach
With over 30 years experience in landscape design and landscape maintenance, All Things Green Landscape Services is proud to serve clients on the Monterey Peninsula and surrounding areas. We bring a high level of professionalism to your landscape project. Call us for landscape expertise with Monterey Peninsula gardens.
Landscape Design
Richard Boynton specializes in custom landscape design to create the garden of your dreams
Landscape Installation
We specially select healthy plants and install them with care – from our design or yours
Irrigation Services
We design and install water-saving, automatic sprinkler and drip irrigation systems, and more!
California Native Plants
We can bring the beauty of our California native plants to your garden
"Many, many years of reliable and trustworthy yard-care for our cottage in Carmel. Several large recent landscape projects also, and all were done professionally and quickly at lower cost than other bids. Richard has provided support for our painting and home maintenance needs thru referrals, etc., also, for many years. I highly recommend All Things Green." — Jim H.

"Richard and his crew have been maintaining our property in Carmel for almost 25 years.  His longevity with us should say it all.  We are very pleased. Over the years he has changed the landscape and added features (automated sprinklers, etc....) as needed and as requested. His knowledge as well as his consistency and reliability are a real plus. I would not hesitate to recommend him and I hope he stays in business for another 25 years." — Richard Ravel

"Over the past five years, I have relied on Richard to develop and implement a landscaping plan for my 1 acre Carmel Valley property. The plan had to convert over time the existing landscaping to draught-tolerant native plants and do so within a pre-agreed to annual budget.  He has consistently met plan goals. In doing so he had to deal with a particularly difficult steep slope erosion problem and the intrusive wild animals. My property was one that other landscapers tried to but could not develop an attractive overall plan. Lastly, his landscaping crew members are polite and cooperative. I could not ask for more." — Hilman W.

"I have been using Richard for over 5 years, and my father for many years before that, to maintain our Carmel property. His work and knowledge are exceptional!! His prices are very fair and I never have to worry about the quality of his work. He also maintains a network of associates that can handle just about any maintenance issue that may come up. I would HIGHLY recommend him!!" — Rod Sievers

"All Things Green landscaping has transformed my backyard into a place for kids to play, for parents to mingle and where everyone can eat organic fruits and vegetables in season.  The Veges are tucked in between flowering plants, and the benches and small patios are tough enough for all the imaginary games and events small children can come up with.  They even did a log bench that makes the garden look like wilderness. I highly recommend All Things Green." — Mark Anicetti

"We would never hesitate to call again. He showed up when he said he would and did what he said he would for the agreed price!" — Dolly S.

"Richard and his crew have been taking care of our yard for years.  It looks so beautiful that many of our neighbors have hired him as well.  He even helped me rid the yard of some pesky golphers.  He's taken on some big tasks like replacing a fence damaged by winter storms, and redesigning and constructing our back yard after a remodeling project.  He and his crew are professional and always friendly." — Torie Thacher

"... Congratulations! Your home received a Firewise hazard rating. ... The landscaping is well managed and well-maintained. The combustible vegetation and materials do not pose a significant risk at this time. ... The landscape is very clean and well-designed with fire-resistant well-managed vegetation which should minimize the risk of direct-flame impingement on the attached wood deck and attached wood fence. The owner of the landscape company was present for the wildfire hazard assessment and provided information on the Firewise landscape design for this property." — Wildfire Defense Systems, Inc.

"I have been enjoying my new back yard this weekend. Thank you again for the wonderful vista." — Jeannie B.

"He did a very good job." — Barbara E.

"Richard and his crew have been with us for about 8 years. We are very pleased with their work and reliability." — Thomas M.

"Wonderful." — Sharlene D.

"I have been very happy with the service from All Things Green.  Highly recommend." — Karen B.